We are specialist suppliers of
single seat Golf Buggies
Welcome to Golf Buggy Ireland one of the UK's top suppliers of new single seat Golf Buggies.
Our buggies are hand made exclusively from UK parts and easily outlast all the other leading makes of golf buggies.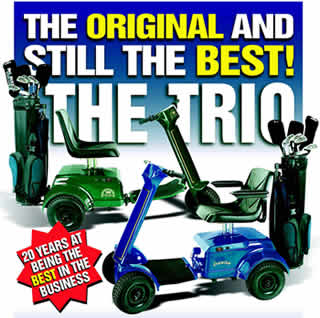 The Trio Golf cart and the Eventer help you enjoy a full 18 holes of golf a day. Sit back and relax in the sprung seat, as you drive between holes, conserving your energy for when you really need it - playing your shot.
Forward and reverse gears give you maximum manoeuvrability.
The Trio is stable, virtually maintenance free, and assembled in under two minutes. So if you need that extra help and are interested in extending the enjoyment of your golfing life phone us today.

Check out just how fast you can assemble and disassemble a Trio Golf Buggy. This video has to be seen to be believed!
You will find our service fast and reliable!